Queensland Ballet

Queensland Ballet Tour of China November 2018
Queensland Ballet is a vibrant, creative company which connects people and dance. The Company offers a program of world-class productions of the best classical ballets and inspired contemporary dance works. Queensland Ballet engages renowned choreographers and designers from around the world and nurtures emerging local talent by presenting exciting new works in an intimate studio series. With a culture of creativity and collaboration, complemented by an active program of engagement with its communities, Queensland Ballet has become the central hub for dance in Queensland and its dancers are acclaimed for their technical excellence and versatility. The Company's annual program offers diversity in style, audience focus and geographic reach, with up to 100 performances in Brisbane and tours to regional Queensland and abroad.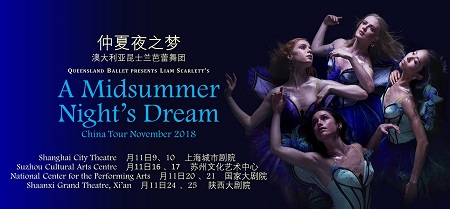 CREDITS
Artistic Director Li Cunxin
Choreographer Liam Scarlett
Composer Felix Mendelssohn
Conducted and Arranged by Nigel Gaynor
Music recording performed by Orchestra Victoria
Costume & Set Designer Tracy Grant Lord
Lighting Designer Kendall Smith

Queensland Ballet Dancers
Principal Artists
Victor Estévez, Lucy Green, Laura Hidalgo, Camilo Ramos, Yanela Piñera
Senior Soloists
Lisa Edwards, Kohei Iwamoto, Joel Woellner
Soloists
Vito Bernasconi, Mia Heathcote, Alexander Idaszak, Lina Kim, Georgia Swan, Neneka Yoshida
Company Artists
D'Arcy Brazier, Zach Fang, Liam Geck, Chiara Gonzalez, Serena Green, Tamara Hanton, Daniel Kempson, Dylan Lackey, Jack Lister, Tonia Looker, Vanessa Morelli, Libby-Rose Niederer, Suguru Otsuka, Samuel Packer, David Power, Patricio Revé, Lou Spichtig, Rian Thompson, Ari Thompson, Laura Tosar, Ze Wu, Sophie Zoricic
ITINERARY
Shanghai City Theatre 上海城市剧院
Performances 9, 10 November
Suzhou Cultural Arts Centre 苏州文化艺术中心
Performances 16, 17 November
National Center for the Performing Arts 国家大剧院
Performances 20, 21 November
Shaanxi Grand Theatre, Xi'an 陕西大剧院
Performances 24, 25 November
Flyer
Contact: John Ballard | +64 21 074 3412 | john.ballard[at]maximaltd.com
Stay Up to date
Sign up now to hear about important releases, performances, and events by Maxima artists.
>